Nearly half of all domestic moviegoers who saw "Jurassic World" chose to view the feature in 3D. That means almost 50% of the U.S. box office for that blockbuster was made up of audience members willing to pay a premium for a better experience. Furthermore, 43% of domestic moviegoers bought 3D tickets for "The Jungle Book," and 46% of the domestic opening weekend box office for "Doctor Strange" came from 3D ticket sales — and the format held strong with nearly 40% of the film's total domestic gross coming from 3D. These figures are significant. In any other industry, percentages like these for sales of a premium offering would be considered a massive success.
Our internal research shows roughly 80% of all North American moviegoers are open to a 3D experience. We should lean in and embrace them.
So, what needs to be done? For starters, 3D cannot be an afterthought. As productions are carefully crafted from beginning to end, 3D needs to be imagined from the start and be a part of the creative process from capture to delivery. 3D films need to be made properly and with purpose, thoughtfully marketed and always presented with technical excellence in theaters.
We realize that one bad experience in 3D could affect a moviegoer's preferences for life. This is especially challenging because not all 3D is created equal. As a science and technology company, RealD is constantly researching and developing new technology to make the viewing experience better. This includes the glasses, the screen, the projector and every aspect of presentation. Today's audience is very savvy and values stellar presentation. We all must sweat the details.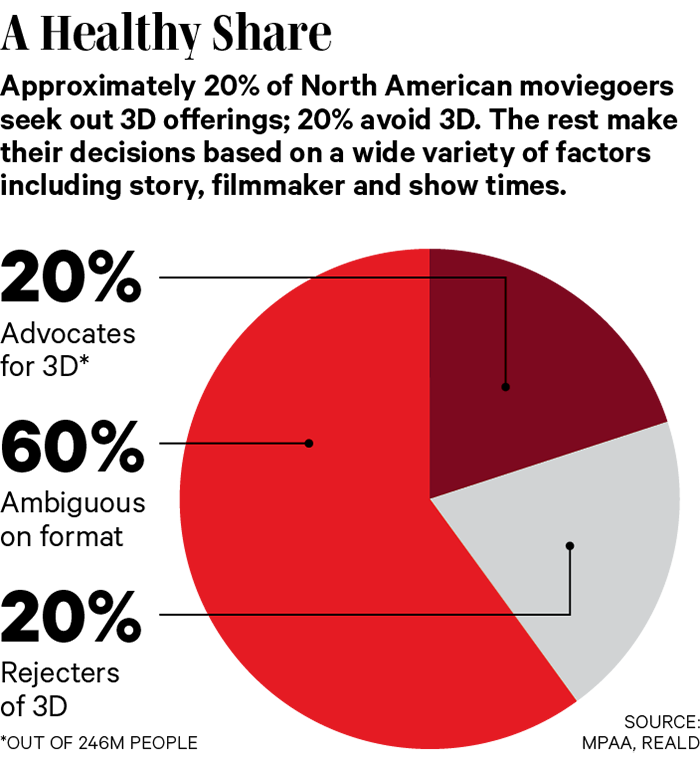 Read more